Breandan De Gallai
From Myth to Magic, International Irish Dance April 2004

Breandan De Gallai talks to IDM'S Claire Spreadbury about teaching, leaving RiverDance & his plans for a new explosion in Irish Dance, in the form os his brand new show Balor.


Breandán de Gallaí
Russian Content Site
...click here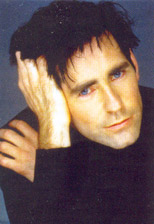 Breandan de Gallai has moved on and he wants to take Irish dance with him. After spending almost a decade with hit show, Riverdance, seven years as principal dancer, he's finally flown the nest and is now working on his own Irish dance extravaganza. Balor is a show based on an old Irish myth and Breandan has dreamed of bringing it to the stage since he was just 16. Although it's still very much 'work in progress', it's set to premier this summer and you only have to speak to Breandan for a second to realise how excited he is about his new project. "It's Irish dancing brought on two generations", he exclaims, so he certainly has a lot to live up to.
Originally from the Irish county of Donegal, 34 year old Breandan now lives in Dublin, where his city centre Balor office is based. Although he was a late starter, taking his first Irish dance lesson at the age of 8, Breandan's passion for the art form soon became apparent. He won a scholarship to Chicago's Gus Giordano, one of the foremost dance schools in the USA in 1986, when most Americans were yet to see a grown man don a pair of hard shoes and perform Irish dance in a way they never knew existed. He competed until he was almost 25, dancing his last World Championships on their 25th anniversary and became a part of the Irish dance revolution, when he took to the stage for those seven minutes of Riverdance magic, at the now infamous Eurovision Song Contest, back in 1994.
Since then, of course, Breandan's been with Riverdance. He left his job as a full time Physics and Mathematics teacher and joined the show for the long haul. He's led performances to over 600 million people worldwide with his dancing partner, Joanne Doyle, and loved every minute of it. "I was asked to be the principal dancer a year and a half into the life of Riverdance. Once I took on the lead, I was living my dream and every single tour had another exciting catalogue of possibilities and opportunities," Breandan told me. "I was the male principal lead who brought Riverdance to all the non-English speaking regions of the world. I fell in love with different cities when I was on tour with the show. There are some beautiful places out there - romantic, beautiful cities that I would love to live in. Whether you're a British or an Irish person, we have a lot to learn about how these cities function and the heartbeat they have. They're so open to all ways of life and, coming from a very small corner of Ireland, with a very Catholic background, it was brilliant to go out and be affected by these amazing metropolises. People are open minded, anything goes and to me, there's something brilliant about that, particularly when you're an artist, because the sky's the limit and people are interested in what's inside of you- what you want to produce and what you want to offer in a new way, creatively, to the world."
Like many dancers who've starred in Riverdance, Breandan is still invited back regularly, but these days, it's more on a consultancy basis. He still holds great memories dear to his heart, like the night he and Joanne Doyle officially became the leads of the Liffey company; the night they opened in Germany- officially the first non- English speaking country Riverdance was received by and, of course, The Special Olympics. That record-breaking performance, on stage in front 80,000 people, was actually Breandan's last ever performance with the show, not that he realised it at the time. "We were set to go to China after the Special Olympics but it was cancelled, to be rescheduled towards the end of the year," he said. "The momentum of Balor was really starting to take off and I had to make a very big decision, because Julian, our Executive Producer, was going to send myself and Joanne out to Kuala Lumpur and to Japan to do some publicity. It was looking less likely I'd actually be on the tour, so the Special Olympics turned out to be my last gig and it was absolutely amazing. Croke Park is an institution in this country, yet I had never been there. I hadn't even gone to a football match, so to be in the biggest stadium in Europe for the first time, performing in front of 80,000 people and involved in such an important and worthwhile event was truly amazing. It was a star-studded occasion and broadcast to, I don't know how many, different countries around the world. So, to dance on that stage with the National Symphony Orchestra behind me was just outstanding. It had rained all day though. There was a puddle in the middle of the stage and you know what Irish dancers are like about slipping, so my heart was in my mouth anyway! But, once I got out there with the 18 drummers, a hundred dancers and the symphony orchestra, it was just unbelievable. When people started taking photographs from the audience, it looked like a Christmas tree!"
So, Breandan left Riverdance to concentrate on his own project - his other dream - the dream of Balor. Breandan's known the myth since he was a very small child, but when he was at school, he performed the story as a straight play and it was then, some 18 years ago, when he first said, "One day, I'll either create a ballet, an opera or a musical out of this story".
Breandan comes across as an incredibly passionate man, but when he talks about Balor, the intense excitement in his voice would make anyone involved in Irish dance or the theatre, tingle. You only need to listen to him for a short space of time and you too will believe Balor is going to be the biggest thing to hit London's West End and New York's infamous Broadway strip in years - I certainly did. And it's merely by-the-by that he has not yet auditioned any of the cast, pinned down the Director or released which theatre they'll even open in. Rest assured, however, his promises sound more than intriguing.
The cast will consist of some huge stars from both the Irish and contemporary dancing world, including Breandan himself. The Director is soon to sign on the dotted line and, if it all goes ahead as planned, has a background from London's West End and usually does straight plays. Oscar winning, Noel Pearson was dropped into the conversation a little later on, who's obviously seen Balor workshopped, but whether that was Breandan's way of throwing me off the scent, we'll have to wait and see. There is also a speaking part within Balor, which Breandan assures me will be played by a hugely famous actor, but no names are on the list as yet. The show is set to open in Ireland this summer, before touring the UK, Scandinavia and North America, and then taking up residencies in both the West End and Broadway, however, to date, any theatres finalized dates are to be confirmed. So, it would seem that the only thing set in stone about Balor is that Breandan has choreographed the production and takes on the role of Artistic Director, as well as performer, and Joe Csibi, the former Musical Director with Riverdance, has taken on a similar role within this show.
Breandan and Joe have been working on the idea of Balor for almost three years now. One of the ways Balor differs from other Irish dance shows, currently performing around the globe, is it has a storyline that is very much a central part of the show. It's partially set in a supernatural world and tells the story of Balor, a mythical King, the suffering of Eithne, his daughter, Ceannfhoala, her lover and the triumph of love in the shape of their son Lugh. Think Tolkien, Lord of the Rings meets Macbeth, meets Greek tragedy - Balor is set to take you on an Irish dancing journey never experienced before. "You could call it an Irish dance ballet," Breandan tells me, brimming with enthusiasm. "But, the problem with giving Balor a definition is people have a very narrow idea of what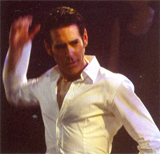 everything is. When you say Irish dancing, people either think of girls in ringlets and fake tan, or Michael Flatley in a stupid looking blouse, dancing 'round a stage. And that doesn't define either of those, because competition dancing is very sophisticated and at a level you could almost make an Olympic sport, and Riverdance is more about a commercial aspect using Irish dance, but it has a heart - it has roots and artistic integrity. But, what we want to do with Balor is a more highbrow version of all of that. So, when I'm with Colin Dunne, Eileen Martin or Joanne Doyle and we talk about what we want to do as Irish dance artists, who have been through both of those disciplines, this is it. We know what people want and what they want to see. And this time, there is an opportunity for the new generation. It's not about forgetting what we did before, but what we've been through, and using all that experience in creating something that has a different edge to it. That's what Balor's all about. It's less crossed, turned out feet, knees together and straight bodies. It's breaking down the rules of competition. Even though Riverdance and Lord of the Dance said they did away with the rules and did what they wanted, we're stripping it down to the very bare minimum and rebuilding it in a way that the dancer becomes an expressive performer. So, it's not just that they have a great ability in producing a beautiful rhythm and executing it excellently, it'~ taking the skills we've learned. The Irish dancers who will work on Balor will be as much an actor, moving across a plot, as they will a dancer."
So, we're talking top-level dancers here and there are a lot of characters within Balor. But, don't expect to see reels, jigs and hornpipes. Dancers will use rhythm and they'll use Irish dance, but it's set to have a very contemporary feel to it. In Breandan's words, "The typical Irish dance form will change, but the heart of the Irish dancer will remain". So, they might be performing rhythm while their hands are touching the ground. It's not a line of dancers so much as using dance as the voice of each character. "These performers are hungry and dying to do something new and different, that will really push the boundaries of what they're used to," he continued. "And I know, I've worked with these dancers, I'm one of them. The team is building bit by bit and I have people calling me all the time, who have very secure jobs in secure shows. I'm so excited and pleased they're calling, because they're on my wish list of dancers for Balor. I can't reveal that list, I'm not even allowed to talk about it out loud in the office, I have to speak in hushed tones! But, you'll be familiar with who they are. The female principal roles are purely contemporary. So Eithne, who's the heroine in Balor, is not an Irish dancer. But, believe you me, people like the Joanne Doyles, Eileen Martins, Michael Pat Gallaghers and Tara Barrys - not only are they amazing talents and fabulous friends of mine, but they're people I'd snap up in a second if their circumstances were right. I'm not saying I am talking to them, or I'm not talking to them, just don't think I wouldn'tl Or Niamh O'Brien, who's out in Las Vegas. They're mature, they've been on the road and they're the people I want. I'd rather have the old crumbly dancers, and I'm including myself in that- I'm the oldest out of all of them! They've lived life and have experience that a 17 or 18 year old World Champion will never have. Some of the roles are going to be so tough. For example, the central female character is the type of role you'd have to rotate every night, because she's so tragic, it would take a lot out of a dancer. That's why it's purely a contemporary role, because only contemporary dancing can actually convey her turmoil."
As well as contemporary and Irish dancing, Balor will also showcase ballet and martial arts - something I was particularly intrigued by. Breandan told me, "It's going to be a mixture of sticks and hand to hand combat. There are a lot of battle scenes. Think of Stomp or Tap Dogs - how people use props as part of the rhythm they create with their feet - it's along those lines and will be choreographed. Joe Csibi has worked closely with me on this and we've workshopped a lot of our ideas. It will be quite dramatic. There'll be huge movements coupled with the rhythm of sticks, beating in time with the music and feet beating with the rhythm of the sticks. What's beautiful about martial arts is that it's choreographed like a piece of art. It's about using the body in a very lyrical way."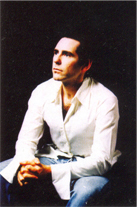 So, although Balor still has several crucially important aspects to pin down, it's also not too far away from its unveiling, when the world and Breandan will finally be able to decide whether his 18 year dream was worth the wait. Now is an incredibly exciting time for the production team, but it's also rather unnerving. "I'm never not excited about Balor," Breandan declared. "Sometimes, I'm quite nervous, but nervous in a good way. People say 'Oh Riverdance must have got so boring for you because you just did the same thing over and over again'. I would never not be nervous before we did my opening number. That's the sort of personality I have. Nerves are perfect for getting me going. Balor is a huge venture and it's going to cost a lot of money. People talk about Irish dance shows and how there seems to be a lot out there, but this isn't just another Irish dance show. We're creating a new way of using the art form of Irish dance. Some narrow-minded people may say Irish dancing is a fad, but there aren't many fads that last ten years. I think it's here to stay, but it's vitally important this decade shows it's capable of doing something else and that's why I've chosen to do Balor. It's hugely exciting, particularly at this stage, because we're thinking 'Is it going to happen? How's it going to look?' and, if it is a success and there's a huge demand for it, which I hope there will be, I'll probably have to stop performing, because I'll have a much more directorial role to fulfil. That might be the reality for me, but I'm hoping to perform for as long as I can. That's why I really have to do this now. Even though it's sad to leave Riverdance, I'm 34 and if I want to star in Balor myself, it needs to happen now, because shows don't happen overnight."
But will Balor be as successful as Riverdance? It's a tough show to be compared with, because Riverdance revolutionised the dance scene. Riverdance is a phenomenon seen by millions of people all over the world. Breandan isn't asking for that kind of success, but he does want to see Balor's name up in lights with shows such as Miss Saigon, Phantom of the Opera, Evita or Cats. He's aiming high, but his belief in his product is infectious.
And then, when Balor has reached the level of fame Breandan hopes for, perhaps he'll turn his hand to the competitive Irish dance scene once again, because he certainly has some new takes on the subject. "I do have very strong ideas about how dancing should be taught in the future and what should happen with the Irish dance scene and Irish dancers," Breandan said, in a matter-of-fact tone. "I'm very concerned that quite soon, we need to set up a more structured direction for dancers from the age of 14 who are very promising, so it isn't just confined to a dancing school in say, Leicester or Letterkenny. I think there needs to be another outlet for them and that's something I would be interested in pursuing. Just watch this space! I need to get Balor off the ground first and then I'll tackle that one! I would advise all dancers to read IDM's Health & Fitness Q&A, written by Ruth Magee. They need to be very meticulous and thorough when it comes to their health as an Irish dancer and get as much experience in other discipliries such as actjng, ballet, contemporary, ballroom, without overdoing it of course, and Irish dancing has to be your number one because it's the best form of dancing in the world! Also, if a teacher says to you, if you do ballet it will turn your knees out - b* * * * * *t! Get as many different disciplines in there as possible and don't be afraid to learn more. Never think you know it all. Never think you don't need to continue working at something. You can't say 'OK, now I can do a rock' - box ticked, that's done. It doesn't work that way. You have to continue and you can learn just as much from the bad dancers as you can from the good ones. So sit, observe and watch what people do well and what they do badly, because you really can learn an awful lot.
So, with Balor's world premier set to be announced within the coming weeks, keep a lookout in IDM for future updates, as well as how to audition for the show yourself.